Tour Guide Map For Murree Eid Ul Fitr 2019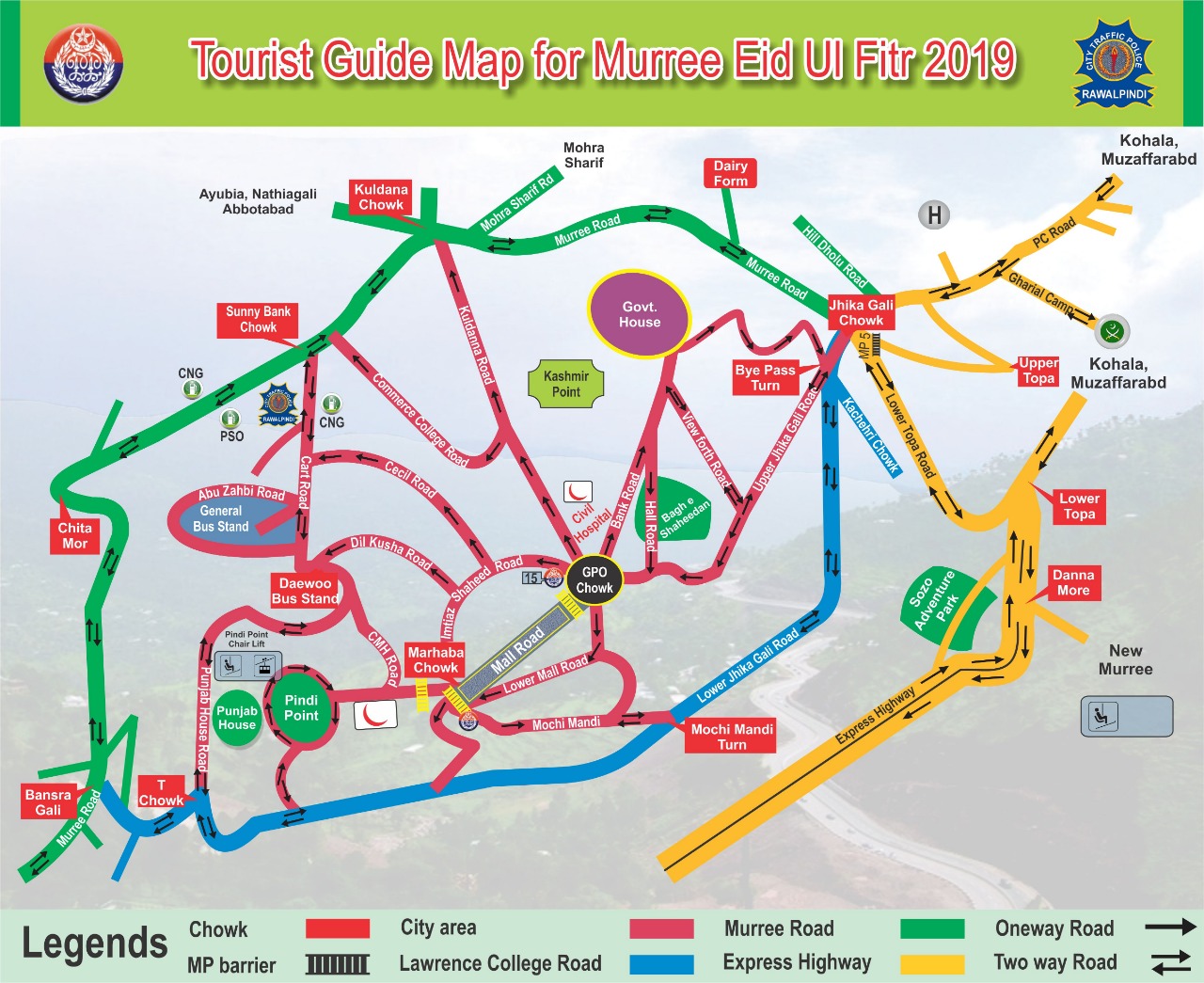 –
MURREE, Pakistan: Murree traffic police have put together a comprehensive and organized traffic plan for tourists, ready to rush into the mountainous resort town during the Eid-ul-Fitr holiday.
According to the Murree Traffic Police spokesperson, all traffic will enter Murree via the RMK GT highway and road.
The spokesperson said that five Murree Circle roads, including View Forth Road, Bank Road, Hall Road, Kuldana Road and Imtiaz Shaheed Road, were declared one-way during Eid-Ul-Fitr.
The spokesperson said Mall Road will remain closed for all kinds of traffic while in an effort to ensure the best possible arrangements, Murree has been divided into five sectors.
The traffic police spokesperson said that 90 traffic assistants, 264 traffic officers, 17 inspectors and five deputy superintendents of police (DSP) will perform special duties in Murree during Eid-Ul- Fitr.
Heavy traffic will not be allowed to enter Murree from 07:00 to 01:00 midnight. Likewise, buses and other heavy vehicles will not go beyond Barori Chungi and Bansura Galli while Azad Kashmir vehicles will arrive via the highway.
The spokesperson further stated that parking of all kinds of traffic will be completely prohibited in front of Habib Bank GPO Chowk or its surroundings; in front of the stairs; Ambassador of the hotel; in front of Lala Zar; from Jhika Gali via GPO Chowk and Cecil Hotel to Kuldana; and from Bank Road GPO to Girls Degree College. The GPO Chowk has been declared free parking.
Tankers and refueling vehicles, except trucks and heavy goods vehicles, could enter the water and the city from 1 a.m. to 7 a.m.
The traffic police spokesman said that the traffic official, Rawalpindi Mohammad Bin Ashraf, had issued guidelines for all traffic officers and personnel to carry out their duties during the festival. 'Eid with total dedication and commitment to serving the masses.
In addition, two control rooms have been established at Sunny Bank for the convenience of tourists.
The spokesperson said tourists can seek help and advice by dialing the hotline numbers 051-9269200, 051-9272616 and the tourist hotline 1058.