Ryanair passengers carry out 'citizen arrest' of 'drunk man'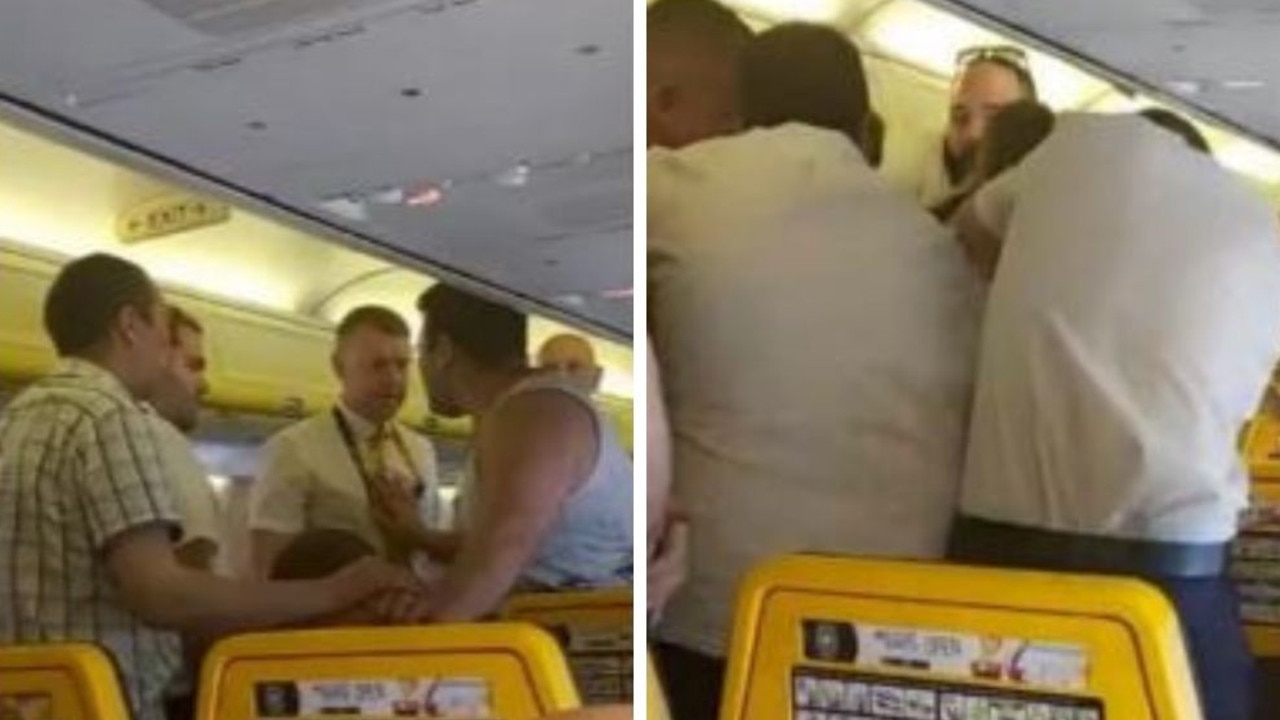 Shocking videos have shown the moment a rowdy passenger was restrained with a seatbelt on a Ryanair flight – apparently because he refused to stop drinking.
The man allegedly injured a passenger after an argument with cabin crew escalated mid-flight.
A heated argument erupted on board a plane bound for Vilnius, Lithuania, from Luton Airport in London on Saturday, The sun reports.
Police are said to have boarded the plane when it landed at its destination to arrest the unidentified man – but it was the other holidaymakers on the flight who were praised for their bravery.
Clips posted on TikTok captured onlookers restraining the passenger with a seatbelt as he allegedly let loose.
The disturbance apparently started because the male passenger drank a bottle of alcohol he had purchased at the airport's duty-free shop before boarding, witnesses said.
When asked to stop in the middle of the flight by Ryanair staff, he allegedly refused to cooperate.
Two TikTok clips showed the argument allegedly escalating into a physical fight.
The man was seen tripping at one point. He was also seen putting his hand on the shoulder of a cabin crew member who then pushed his arm away as they spoke.
In another clip, the man was shown after being restrained.
In it, he was seen wiggling his fingers while shouting, "I don't give a fuck who the fuck you are" and "Don't touch me."
A crowd of passengers then gathered around his seat, apparently in an effort to calm him down.
Olivia Skalska, one of the cabin crew on board the flight, said: "He had his own alcohol and we didn't notice him until halfway through the flight.
"He refused to put it away and started arguing and getting rude with the cabin crew when we told him it was not allowed.
"Then he started arguing with the other passengers and became very aggressive," she said.
"I was really scared so I tried to stay away from him, so I really didn't get involved in the fight, but he hit his own father and injured a passenger," she alleged.
The passenger who posted the TikTok overlaid the video of the fight with the audio, "Not all heroes wear capes" – and it quickly soared to 215,600 views, 3,285 likes and nearly 300 comments.
A few days later, she then posted the footage of the escalating argument to give some more context.
She claimed: 'Long story short, I drank too much, I got so aggressive, I tried to 'leave' the plane mid-flight.
"He was left alone three times but kept getting up and threatening people."
Commentators praised passengers who helped defuse the situation.
One wrote: "Glad to see strong people handling the situation. I would be swinging in the back of the plane at this point breathing in a bag.
Another added: "I would be so scared! I travel a lot from Luton with just me and the baby and I don't like planes. It would add to my stress!
Still, some viewers found the whole sequence of events hilarious, with one in particular commenting that it was because there were "no more cheese toasts".
This story originally appeared on The sun and is republished here with permission
Read related topics:
ICT Tac