Queen's funeral: Anthony Albanese leaves with Dylan Alcott for London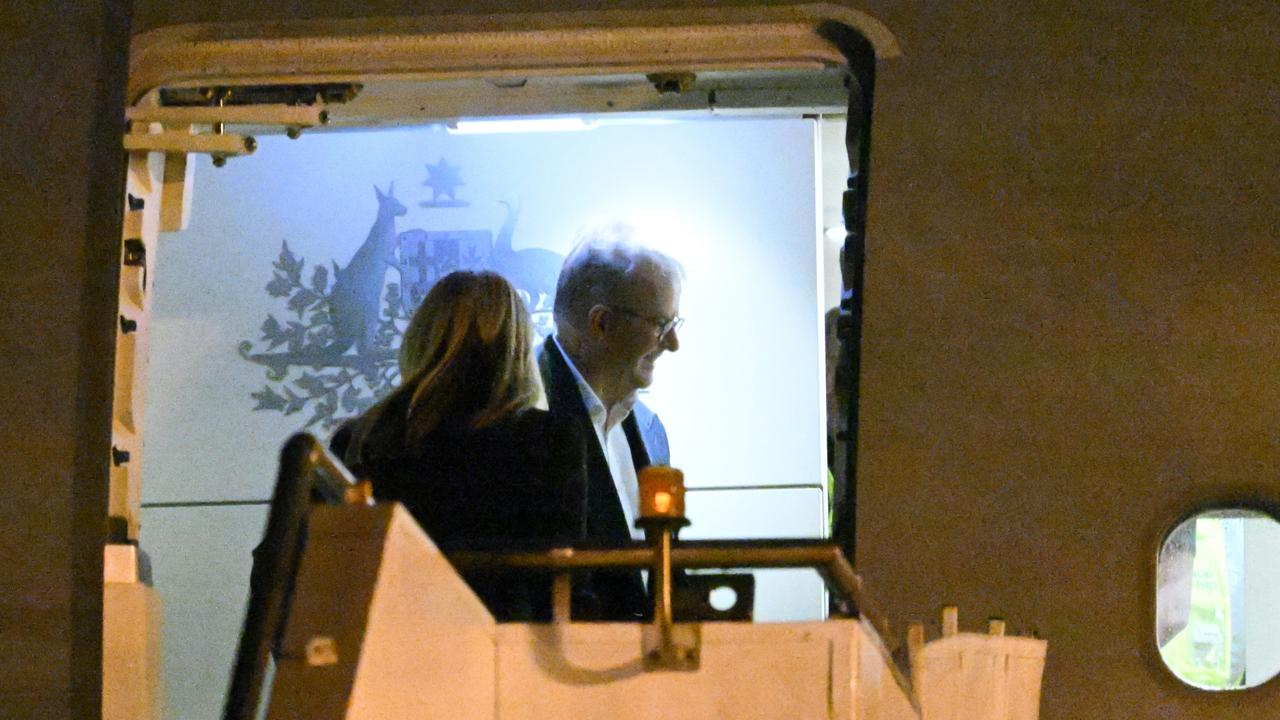 Anthony Albanese left Sydney for Britain to represent Australia at the Queen's funeral.
The Royal Australian Air Force flight took off late Thursday evening in Australia and is expected to arrive in Britain early Friday UK time.
But a guest at the funeral was unable to come and is now "unable to attend", beset by illness.
Champion horse trainer Chris Waller is one of 10 Australians (excluding dignitaries) who have received an invitation to the Queen's funeral.
Mr Waller, the thoroughbred trainer of champion horse Winx, has cared for many of the Queen's horses and has developed a close relationship with Her Majesty over the years.
He said it was a "immense honour" to attend.
"I've been inundated with messages and wishes and…it's just a very humbling experience that's about to take place, and all for an amazing woman," he said of the post. 'invitation.
Mr. Waller sometimes chatted with the Queen on the phone about the horses.
However, Covid-19 ruined his plans.
"Unfortunately, for reasons related to Covid-19, I cannot attend the funeral.
"Like so many others, I will live and cherish for the rest of my life the fond memories I have of Her Majesty; his love of horses and all animals; her passion for life and the respect she had for ordinary people.
A guest hitchhikes after missing his flight
There was also a surprise guest on the private jet.
The Prime Minister is accompanied by his partner Jodie Hayden.
Governor General David Hurley is heading to London, as are 10 hand-picked Australian guests, including Australian of the Year Dylan Alcott.
Several leaders of the Pacific Commonwealth appointments are also hitchhiking following an offer from Mr Albanese.
The British government had asked world leaders to arrive by commercial plane whenever possible.
However, the Australian government said it would not follow this directive by using RAAF aircraft instead.
"It has been long-standing plans for me and the Governor General to travel to London and we will do so on Thursday evening," Mr Albanese told the ABC.
Deputy Prime Minister Richard Marles cited security concerns as a reason for avoiding Qantas.
Surprise guests aboard the modified Airbus A330 are horse racing royalty Gai Waterhouse and her husband Robbie.
The pair were invited regardless of the ticket allocation in Australia, but reportedly couldn't get a seat on a scheduled flight. The couple jumped aboard the Airbus instead.
Officials from the Solomon Islands, Papua New Guinea, Tuvalu and Samoa are also traveling to London courtesy of Australia.
All but Samoa are, like Australia, Commonwealth realms with King Charles III now at the head of state.
Ben Roberts-Smith goes his own way
It has also emerged that army veteran Ben Roberts-Smith, who is in the middle of a libel case with Nine Entertainment, is on his way to the funeral from Brisbane. Although it flies commercial.
The Queen had requested that all Victoria Cross recipients, such as Mr Roberts-Smith, be invited.
While the main activity of the trip is to bid farewell to the Queen, her death also provides an unexpected opportunity to do a bit of diplomacy.
Mr Albanese will attend a reception with King Charles on Sunday. He will also have a one-on-one with the new Australian monarch. He is also expected to meet his British counterpart Liz Truss.
'Everyday Australians' who made the cut
It is very likely that Mr Albanese will have the chance to rub shoulders with Canadian Prime Minister Justin Trudeau, New Zealander Jacinda Ardern and US President Joe Biden.
But 10 "ordinary" Australians were also invited to the funeral alongside the Prime Minister, Governor-General and Australian High Commissioner in London.
Alcott, who made the Queen laugh in a candid Zoom call after being named Australian of the Year, was among those chosen.
Additionally, Valmai Dempsey – 2022 Senior Australian of the Year, Dr Miriam-Rose Ungunmerr Baumann – 2021 Senior Australian of the Year, Shanna Whan – 2022 Local Hero of the Year, Saba Abraham – Queensland Local Hero, Kim Smith – a local Tasmanian hero, Trudy Lin – the 2022 Young Australian of the Year, Danny Abdallah – co-creator of i4give Day and Foundation, and Professor Helen Milroy – the 2021 Western Australian of the Year were invited .
Mr Albanese said Buckingham Palace had requested that the 10 guests be "everyday citizens who make a contribution to their local communities".
"The Australians who have been invited, I believe, are an extraordinary contribution to our nation."