JetBlue Launches New One-Stop Travel Booking Site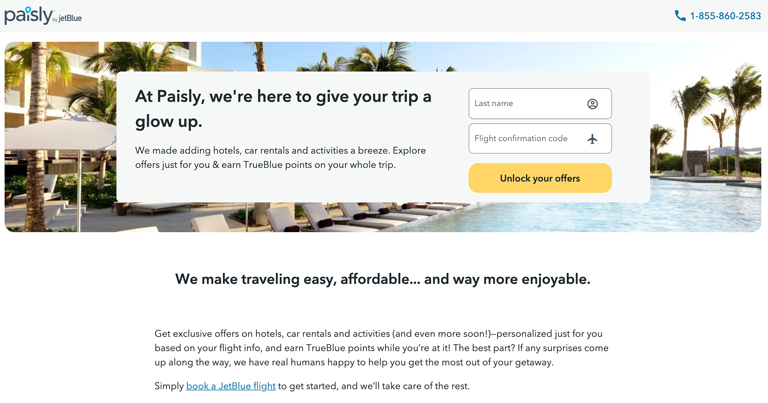 JetBlue announced the launch of Paisley by JetBlue, a new travel website that helps customers who have purchased a JetBlue flight complete booking the remainder of their trip.
Paisly's smart technology facilitates the booking process by using flight information to make personalized suggestions for travel items such as hotel stays and car rentals.
The Paisly Dashboard has been designed to make it easier for customers to book travel and reference an itinerary with just a few clicks.
Initially, Paisly will feature hotels, car rentals, and theme park deals, with plans to add hotels, vacation rentals, activities, retail products and more in the coming months, because the airline seeks to select high quality partners who align with its new mission.
"Travelers want peace of mind that their travel provider will take care of them, which is why Paisly is 100% backed by JetBlue and a team of real people ready to help when needed," said Andres Barry, President of JetBlue Travel Products. "Our handpicked partners think about customer service like we do, and work with us to make planning a trip much easier."
The airline said the name of the new travel website was inspired by the differences in the paisley patterns, symbolizing how Paisly's travel suggestions are unique to each customer and their needs.
The new platform will offer a number of benefits to customers, including personalized suggestions; easy access to travel plans on JetBlue's personalized dashboard; ease of booking; improved customer service; reliable recommendations; and the possibility of earning loyalty points.
"JetBlue continues to extend our trusted brand in innovative ways through travel, which benefits customers and helps us grow effectively," added Barry. "We're just getting started with Paisly, but we see great potential for a very different type of travel website that focuses on the needs of individual customers and offers truly excellent customer service. "
Paisly is designed for customers who have already booked their JetBlue flight and complements JetBlue Vacations, which offers exclusive deals on bundles. The benefits of JetBlue Vacations include the best price guarantee, personalized service from local insiders in major Caribbean destinations, and payment flexibility with MarcusPay.
JetBlue customers can visit paisly.com to view their dashboard and view Paisly's travel suggestions. Suggestions will also be sent to JetBlue customers via email after booking their flight. The technology behind Paisly selects the relevant options directly and no customer information is shared with partners unless a reservation or purchase is made.