Dumpling Duo: A Travel Guide to New York's Best Restaurants | Opinion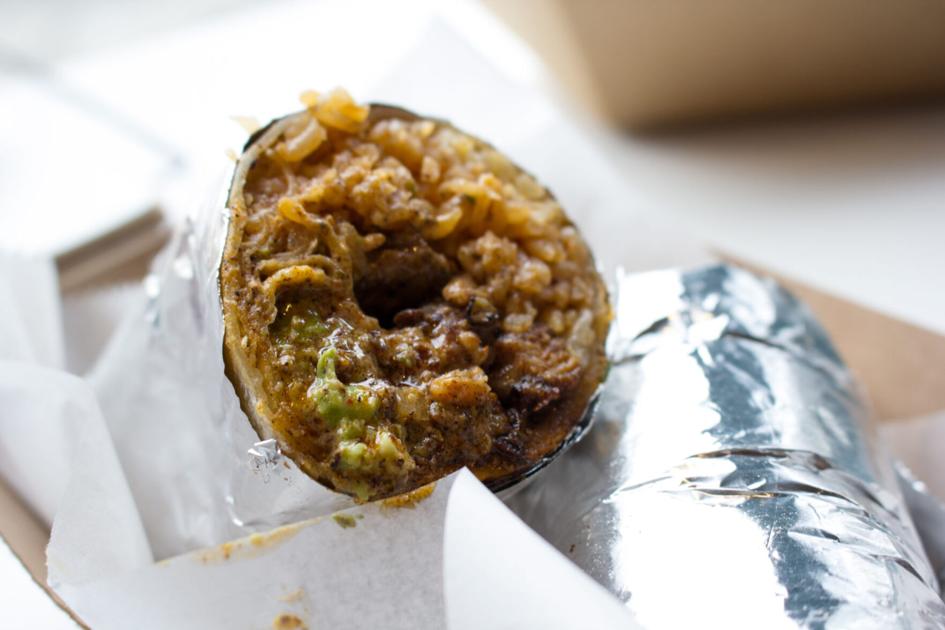 We landed at John F. Kennedy International Airport around 9pm EST for a college press conference, hungry and ready to devour all that New York City had to offer. As we dropped our bags off at the hotel and bundled up in coats and scarves, we started running.
Totto Ramen
Cold and frustrated with our long walk in the rain and slippery dirty slush we had to walk through, we decided to part ways with the herd of our colleagues in the newsroom to find our own late night dinner, dragging Amy away. Wells, our editor. , with us. We pulled out our phones and followed the blue line directions to Hell's Kitchen, a Manhattan neighborhood, looking for New York ramen.
The joint was so small we missed it the first time we drove by. Tucked mostly underground, all that was visible was a tent-like structure with red lights shining from inside, illuminating the banner that read "Totto Ramen".
We rushed inside the small waiting room and huddled around the heat lamp and menus like cavemen who had just discovered the fire, looking every now and then to see the small restaurant. crowded. Hip-hop music blared every time someone opened the door.
The wait was not long and we were soon inside seated at the bar which spanned the (short) length of the establishment, coats hanging down behind us. The three of us ordered the chicken paitan, a chicken-based ramen, and watched the skilled chefs work their magic from across the bar.
Although the flavor was different from the ramen we had in California, the chicken broth was similar to the Filipino dish, mami.
The noodles were perfectly al dente, and although they had to use a dump truck to put all those onions in each bowl, the seaweed and bamboo shoots balanced out the flavor as we ate.
#DumplingDuoinNYC stomped in sleet for 20 minutes before finding this chicken ramen shop! @ams_well pic.twitter.com/OsgGJTeg0g

– Duo of dumplings (@dumpling_duo) March 8, 2018
Union Square Burgers
A storm hit New York City the day after we arrived, lashing snow and rain left and right. It was our first time to experience snowfall and it was briefly exciting, especially coming from the perpetually hot climate of Southern California. But as we set off in search of a Shake Shack, walking in circles as the cold, narrow streets began to confuse our phones, the novelty quickly faded.
When Shake Shack was finally in sight, Brandon Pho, the other editor, suggested we try something more unique in New York City. A few doors down from our target, we looked at Union Square Burger, our party of five crammed inside the little burger. The obviously overwhelmed cashier warned us that there would be a wait; he was the only one working that day. As long as we were out of the snow we didn't mind.
We crammed into the small room, some of us sitting at round tables for two or three, some on stools in a bar facing the wall, and some standing, but we were all dripping with the storm. .
When we finally all had our food, our conversations and laughter ceased as we hungrily shoved fries and burgers in each other's faces. We ordered the Shroom Town cheese burger and the avocado cheese burger.
The Shroom Town cheeseburger was perfectly tasty and delicious. The fluffy sesame bread could barely contain the mushrooms and cheese oozing from the buns like lava lazily flowing over a volcano. While Big Dumpling isn't a huge fan of burgers (having about one a year, maybe two in a bad year), the flavor has his taste buds soaring. Maybe it was still the euphoria of being in New York, or maybe it was the wagyu and black angus patty, but she could easily have chosen another one.
The doughy potato bun topped the meat patty and a mound of mashed avocado. The avocado added the creamy texture and helped reduce the heaviness of the meat and cheese. The little dumpling has had dinner at Shake Shack at her house before, so she was thrilled to try this place. The establishment is similar to Shake Shack in terms of burgers and fries, but it was a unique experience as we can pick up Shake Shack in Los Angeles.
Was on my way to Shake Shack but found something better on the way! #DumplingDuoinNYC @sarah_elmahmoud @ams_well @photo recording pic.twitter.com/CxHBHFbM5B

– Duo of dumplings (@dumpling_duo) March 7, 2018
B'kyln Burro
If there's one thing a Californian shouldn't do in New York City, it's try to find good Mexican food. Don't get me wrong, there are probably some great dives that set up a killer enchilada, but when you live this close to the original, finding authentic burritos elsewhere seems silly.
But we tried anyway, slipping under New York to B'KLYN Burro on subways we hoped to go in the right direction – we had a bad habit of taking the wrong train. Fortunately, it was only a short walk from the metro.
With a huge wall mural showing a divine burrito seen by a donkey on one wall and a few colorful tables leading up to the kitchen, the inviting aromas and atmosphere were unique and promising. We ordered the burrito carne asada, the burrito al pastor and the nachos.
The burrito carne asada was like eating fire: tasteless and painfully hot. The abundant amounts of rice and beans and the tough meat were not able to extinguish the heat. We haven't even finished half of it before we put it down and move on.
The burrito al pastor, on the other hand, was quite satisfying. The al pastor was not too spicy or bland and was full of flavor. The burrito was filled with rice and beans and was overflowing with meat but dripping with al pastor oil. It was good, but not good enough to finish.
Far from being authentic, the nachos were decorated with peppers, zucchini, mushrooms, and fried pinto beans, but the cooks capitalized on their deviance from the Californian notion of nachos. The light flavors of the grilled vegetables balanced well with the heaviness of the cheesy beans, and the chips were fresh.
Prepare to read all about the @dumpling_duotasty culinary adventures in New York! #DumplingDuoinNYC ??? pic.twitter.com/pyAvPTIkCc

– Daily Titan (@thedailytitan) March 8, 2018
Schmackary's
Craving something sweet among all the savory dishes on our trip, we found this cookie cafe in the middle of Hell's Kitchen. With a bright color palette of egg robin and pale yellow, the atmosphere was warm and welcoming. Contrasting with the gloomy weather outside, the hostess greeted us with an energy that seemed to bounce off every wall. Her loud and cheerful disposition encouraged us to buy more than we could finish.
Served with coffee and other goodies, cookie flavors are included: Cookies & Creams, Sch'mores, Chunky Monkey, and Black & Tan, which is a Guinness and dark chocolate flavored cookie. The cookies were big and deliciously sweet, so we decided to eat half of them and save the rest for later.
#DumplingDuoinNYC always room for dessert! ? @ams_well pic.twitter.com/q748VpJokB

– Duo of dumplings (@dumpling_duo) March 8, 2018
We started and ended our stay in Manhattan with slices of pizza bigger than our heads (the first was overpriced and the second was dripping fat on our arms). With our bellies full, we hopped on a plane to LAX and dreamed about all the great pizza places we missed. If we had the chance to go back, we would get another bowl of Totto Ramen and pick up a dozen Schmackary's cookies, but we would wait to get home for a good burrito.
The @dumpling_duo had New York and its authentic ramen, fiery Mexican food, and hit pizza slices. #DumplingDuoinNYC https://t.co/ZOSYqpZNid pic.twitter.com/JoL0jgKV1j

– Daily Titan (@thedailytitan) March 15, 2018