Couple accidentally board wrong plane and land 1,200km from home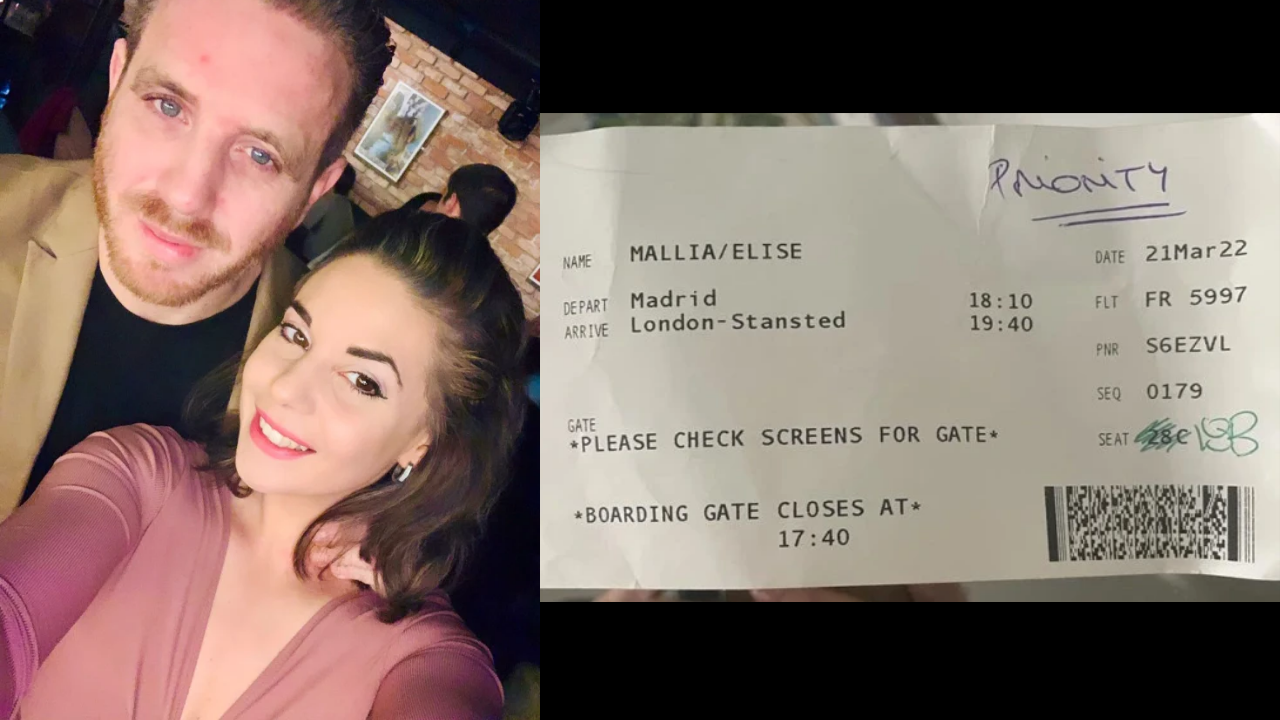 HIGHLIGHTS
Elise Mallia and Jessy Jezequel were returning from vacation in France when they took the wrong flight
They realized they took the wrong flight too late
Interestingly, they had their boarding pass scanned three times before boarding the flight
A couple accidentally boarded the wrong airplane and landed 800 miles (1,287 kilometers) from home.
Elise Mallia, 33, and Jessy Jezequel, 41, were returning home from a vacation in France when they boarded the wrong flight and ended up 800 miles from UK.
The couple boarded a Ryanair flight from Marseilles but didn't realize they were flying towards Madrid in Spain – not Stansted – until it's too late.
"An hour into our flight, Jessy said he thought he heard a flight attendant say Madrid, but we thought he had dreamed it. But after that, we started to realize that all flight attendants on board spoke Spanish," said Elise. LADbible.
Related News
'Are you a terrorist?'
Bengaluru man hacks IndiGo website to find lost luggage; netizens say "wo engineer hai, kuch bhi kar sakta hai"
When they asked the flight crew, they were told they were going to Madrid.
They assumed their boarding passes were incorrect – even after scanning them three times before boarding.
When the couple checked boarding passes, they were supposed to be on a flight to Stansted.
Related News
Are you a nervous traveler? Pilot reveals best and worst times of day to fly to avoid turbulence
"We were confused, as were the stewardesses. We were panicking and tried to explain to the staff that we weren't supposed to be in Spain," Elise said.
She added: "Everyone thought we were crazy at first – until we showed them our boarding passes."
Elise recalled seeing "Madrid" on the door next to theirs and joking with Jessy that they would continue their vacation in Spain.
She said: "How did no one notice our boarding passes, or notice that there were two extra passengers on the flight? Surely you shouldn't be able to get on the wrong plane without anyone noticing !"
"We finally got home, but we still don't know how it happened," she added.
A Ryanair spokesman said: "Mr Jezequel and Ms Mallia boarded their flight from Marseille to London Stansted through the right door. However, these passengers then failed to follow the route assigned to the aircraft from London Stansted, crossed an unauthorized area and mistakenly boarded a flight from Madrid."
They added: "Both passengers were able to occupy the same seats they had reserved for their original flight, as that flight was not full, therefore not alerting them to their error at this time. An announcement informing passengers of their final destination and estimated time of arrival is made prior to each flight departure – which should have alerted Mr. Jezequel and Ms. Mallia that they were on the wrong plane."