Almosafer innovates travel booking experience in Saudi Arabia with interactive retail technology in its branches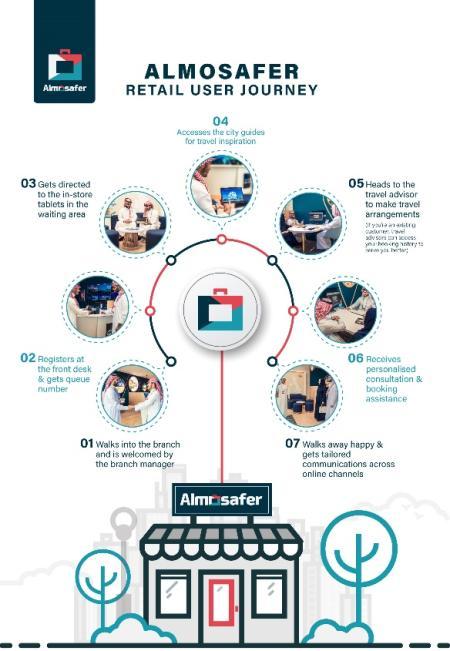 The unified and integrated travel booking experience offers customers the ability to seamlessly book multiple products on a single platform.
Personalized in-store experiences to include top city guides to provide customers with travel inspirations and recommendations based on their travel preferences.
Riyadh: Almosafer, Saudi Arabia's leading omnichannel travel brand, has successfully deployed fully integrated travel booking retail technology across its new interactive stores in key cities across Saudi Arabia, underscoring its commitment to better serve Saudi travelers by offering a highly personalized service. , a personalized customer journey even before entering the agency.
Featuring an interactive in-store queue management system, travel inspiration through dedicated city guides, digital video walls and screens showcasing the latest travel packages, a database centralized for customers and their booking history, retail branches are perfectly modeled to optimize operations and integrate seamlessly. different stages of each customer episode, which saves valuable time on the journey.
With the help of industry experts such as Accenture, Salesforce and Appspace, the new in-branch experience aims to change the way travel is booked in the Kingdom. The newly integrated technology aims to reduce customer wait time at branches as well as engage them by showcasing relevant travel inspirations and offering recommendations based on their travel preferences.
Almosafer's retail technology allows it to create personalized profiles for each customer through their online, offline or call center travel booking history, even before they visit branches. . As with the interactive in-store tour, customers are registered either at reception or at the terminal by the branch manager or one of the dedicated travel advisers. When registering, the kiosk screen will prompt the customer to select their travel choice and the reason for coming to the agency (flights, hotels, vacations or other services). Queuing customers can access personalized city guides via in-store tablets and browse rich interactive content on top destinations, videos and even filter destinations based on their travel preferences (e.g. vacation family, honeymoon, shopping, etc.).
With the help of Queue Management System (QMS) and inspirational content journey, agency travel advisors can access the customer's browsing history and understand what the customer is looking for, then give personalized, adapted and transparent travel advice and recommendations. travel experiences based on their profiles, and personalize their post-visit communication through tailor-made offers and more inspiring and relevant content for them.
Muzzammil Ahussein, EVP Almosafer said: "Customer expectations for real-time, smooth and personalized service are on the rise. Almosafer is accelerating the pace of innovation in the tourism industry by integrating sophisticated retail technology into customers' travel booking journey. We have partnered with key industry players in the region such as Accenture, Salesforce and Appspace to unify various aspects of user experience and build capacity across our retail channels. The enhanced seamless booking experience strives to drive internal efficiency, customer focus and deliver exceptional return on investment. Our goal is to inspire and excite our in-branch clients with rich interactive content while letting our expert travel consultants take the effort out of planning the perfect trip."
"Creating an engaging in-store experience for customers who book travel was one of the main goals we are trying to achieve with Almosafer." said Mohamed Sofiane Baffoun, who leads Accenture's travel industry in the Middle East. "Using digital displays, queue management systems and personalization tools, Almosafer can engage with customers with inspiring content about their destination while they wait in queue and create a whole unique experiences for each customer. Through this partnership, we have enabled Almosafer to transform its digital channels and maximize its overall performance, increase efficiency and reduce costs, while paving the way for innovation to create a more personalized customer journey" .
Rich content is created, managed and distributed to in-store tablets and large format video walls through a content management system called Appspace, which allows Almosafer's content team to plan, allocate and hyper-localize content in branches, down to personalization. content on each device. Based on the location of the branch, regional preferences, and customer interaction with rich content in the respective branch, the inspiring journey displayed is then personalized.
Mohamed Emam Saber, Regional Director Middle East and Africa, Appspace said"One of the most important elements of Almosafer's digital retail journey was the platform's ability to contain content from multiple environments, such as Salesforce and Queuing systems. Appspace facilitated the transition seamlessly from environment to environment.When a customer walks into the stores, the experience for them is seamless and they witness a unified platform targeting all their specific needs despite being from of multiple technologies. Appspace's unified platform experience helps enrich the customer journey and provide travel inspiration.
Additionally, Almosafer has also built its own one-stop agent platform, Unify, an integration solution to seamlessly book multiple products on a single platform. This technology, fully integrated with Salesforce, a leading CRM tool, gives travel advisors access to a wide range of hotel and airline options (450 airlines, more than a million hotels ) and consolidate customer interactions throughout the customer lifecycle. Travel advisors can now arrange various trips such as flights, hotel, transportation, international driving license, visa, etc. for the same customer at the same time.
Thierry Nicault, senior regional vice president at Salesforce, said"Our user-friendly platform helps Almosafer streamline all customer interactions across various touchpoints and channels, including phone, email, mobile, social media and in-store. Almosafer drives the digital transformation as the 360-degree customer view allows travel advisors to have a unified view of every customer interaction and ensures a consistent customer experience throughout the trip.
The human element plays a major role in the successful deployment of Almosafer's retail technology in its branches in Saudi Arabia. To ensure customers have a more flexible and personalized booking experience, Almosafer develops and certifies young Saudi nationals through the Almosafer Academy – a bespoke training and employment program that the company uses to hire and train the right talent – to be part of the brand's integrated customer journey. . These experienced travel advisors are knowledgeable about global destinations and can make recommendations based on customer preferences, making their in-store interactive journey more enjoyable.
Bringing this new retail technology to Saudi Arabia for the first time is a key priority for Almosafer as part of its commitment to innovate the travel booking customer journey. The brand has made major investments to design and implement this new integrated in-store customer experience with the aim of offering a more personalized consultation by consolidating information on Saudi traveler preferences, overall customer behavior and online insights. real-time on travel trends. In the future, the experience will be further enhanced with additional features such as virtual reality and appointment scheduling.
Almosafer retail branches welcome customers in Riyadh, Mecca, Taif and Jeddah, and more will open in various cities including Dammam, Kharj, Khobar, Jubail, Al Ahsa, Khafji, Medina, Khamis Mushait, Abha, Bahah, Bishah, Jizan, Najaran, Tabuk, Aljouf, Unaizah, Buridah, ArRass, Hail, Yanbu and Rabig.
-Ends-
About Almosafer:
Almosafer is the flagship brand of the Seera Group's consumer travel business unit, catering to the most discerning needs of travelers from Saudi Arabia and beyond. Originating in the Kingdom of Saudi Arabia, Almosafer is transforming from an online travel agency for Saudi customers into a full-fledged omnichannel travel service provider that provides a seamless user experience for travel bookings on online platforms peak. , call centers and points of sale.
Offering hotel reservation options for more than 1.5 million properties worldwide, flight reservations on more than 450 airlines and complete vacation packages, Almosafer offers various convenient reservation solutions for any type of need. of travel.
With the legacy of being a local business fueled by Seera Group's leadership in travel and tourism in Saudi Arabia, the brand has developed a deep understanding of local traveler needs, preferences and segments.
Almosafer constantly strives to bring travelers from the Kingdom and beyond the best experience and value for their travels and with continuous product developments, technological improvements and customer focus at its core, the brand aims to deliver what is important to their customer – creating journeys of joy for themselves, their families and others.
www.almosafer.com
For more information and media requests, please contact:
Mohini Parmar | Dina Bajjali
ASDA'A BCW
+971 4 450 7600
[email protected]
[email protected]
© Press release 2019